Essere COOL non sempre vuol dire essere migliore!!!
La ricerca che evidenziamo questo mese, seppur su pochi pazienti, non sembra mostrare significative differenze fra le due metodiche per quel che riguarda la neuromodulazione dei nervi genicolari.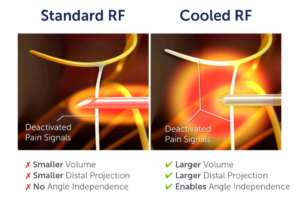 https://rapm.bmj.com/content/48/5/197
Abstract
Background Radiofrequency (RF) treatment of the genicular nerves has the potential to reduce chronic knee pain due to osteoarthritis or persistent postsurgical pain, however, a direct comparison between the two main modalities used, conventional and cooled, is lacking.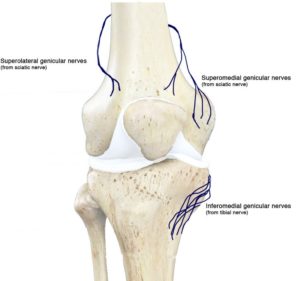 Methods This double-blind, non-inferiority, pilot, randomized controlled trial compared the effects of cooled and conventional RF in chronic knee pain patients suffering from osteoarthritis or persistent postsurgical pain after total knee arthroplasty. Patients were randomized following a 1:1 rate. The primary outcome was the proportion of patients with ≥50% pain reduction at 3 months post-intervention. Other outcomes were knee pain, functionality, quality of life, emotional health, and adverse events up to 6 months post-intervention. Conventional RF treatment was tested for non-inferiority to cooled in reducing knee pain at 3 months follow-up.
Results Forty-nine of 70 patients were included, of which 47 completed a 3-month follow-up. The primary outcome was achieved in 4 of 23 patients treated with conventional RF (17%) vs in 8 of 24 with cooled (33%) (p=0,21). Results from the non-inferiority comparison were inconclusive in relation to the non-inferiority margin. There was no statistically significant difference between secondary outcomes. There were no serious adverse events.
Conclusions Both conventional and cooled RF treatment reduced pain in the osteoarthritis and persistent postsurgical pain population. This pilot study did not demonstrate statistically significant differences in the proportion of patients experiencing ≥50% pain reduction between techniques. The non-inferiority analysis was inconclusive. These results warrant further research.
VIDEO DIDATTICO
Considerato l'articolo del mese ed il tema neuroablazione dei nervi genicolari, proponiamo un bellissimo video didattico del solito Vicente Roques, che ci mostra l'approccio ecoguidato a tali nervi,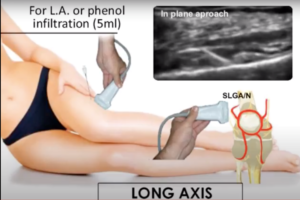 il cui blocco con anestetico sta entrando di prepotenza in numerosi schemi di analgesia multimodale per la chirurgia protesica di ginocchio.